SPJ Living – Sawyer Smith Residential Brokerage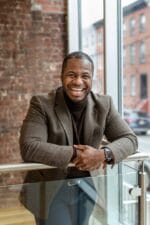 Long Business Description:
Hard work and helping others are in Sidney's DNA. He just loves people. He got his first job as a bag boy at age 13, as soon as he could have a work permit in Orange Park, FL where he grew up, wanting to infuse happiness in everyone's lives. Upon receiving his MBA from Stetson University, Sidney settled in Hoboken where he has resided since and went on to serve in various capacities in non-profit organizations including New York Urban League, HelpUsAdopt.org, and Harlem School of the Arts. Currently, he serves as Director of Development at Immigration Equality. The same desire to help his fellow community members has attracted him to real estate where he sees his role as a 'conduit of dreams.' He navigates through complex real estate transactions with his remarkable work ethic, sense of humor, and kindness. Sidney is a classically trained singer and a fitness enthusiast who leads spin classes at a local gym, and he enjoys singing and cycling through streets of Bergen County.